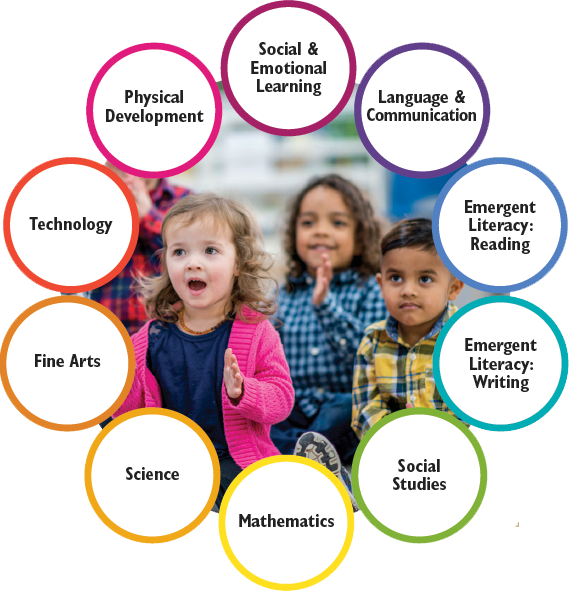 View Virtual Sampler
Comprehensive PreK Programs
Research-Based and Grounded in the Understanding of How Children Learn
Print + Digital | English & Spanish
Program Components
Comprehensive and connected program components support the needs of PreK teachers, students, and families.
TEACHER RESOURCES
Teacher's Resource Systems provide whole-group and small-group lessons, transitions, and centers—one for each unit.
Instructional Routines Flip Book provides evidence-based routines that are used throughout instruction.
Assessment Guide provides tools to inform instruction and monitor progress.
EMERGENT WRITING
Emergent Writing Big Books and Professional Guide provide instruction and guidance on developing proper posture, grip, pre-writing strokes, directed drawings, and more.
FOUNDATIONAL / MULTISENSORY TOOLS
Foundational Skill Toolkit provides letter cards, picture word cards, high-frequency word cards, sound-spelling cards, and workmats used for foundational skills.
Multisensory Tools provide manipulatives to support learning centers.
FAMILY ENGAGEMENT
Home–School Connections Guide provides resources, calendars, and take-home books to connect learning to home.
Consumable Student Book provides an interactive format for students to continue to show their learning in school or at home.
Distance Learning Activities provide caregivers with additional activities aligned to each unit, downloadable in the Benchmark Universe™ Digital Learning Platform.
CLASSROOM MANAGEMENT
Classroom Management Professional Book provides everything you need to set the environment.
ASL Posters encourage communication and help facilitate classroom management.
Transitional Activity Cards provide support for students as they transition between rotations.
Business Center is teacher-created and organizes jobs, rotations, and schedules.
READ-ALOUD BIG BOOKS AND LAP BOOKS
Informational and Literary Big Books connect to unit concepts, oral language, high-frequency words, and other emergent literacy skills.
Concept Cards connect directly to the informational big books to provide additional opportunities for generating oral language and reinforcing concepts.
Retelling Cards connect directly to the literary big books to provide opportunities for students to generate oral language and retell the stories.
Posters provide ways to reinforce literacy, math, and science learning.
Lap Books connect to unit concepts while also focusing on social-emotional learning, mathematics, and high-frequency words.
Social and Emotional Story Props connect with the social and emotional learning lap books to provide tangible tools for students to use as they dramatize, retell, and show social and emotional learning.
READ-ALOUD TRADE BOOKS
Trade Books connect to the unit topic and provide engaging, authentic read-aloud titles. There are no transadapted Spanish titles!
Trade Book Lessons were written specifically for each title.
BOOKS SPECIFICALLY DESIGNED FOR PREK STUDENTS
Emergent Readers provide developmentally appropriate books for students that connect to content in the big books and lap books, and are designed specifically for PreK emergent readers—not to follow along with a read-aloud!
Consumable Student Books provide ownership of learning in the unit across multiple, connected domains. There is one book for every student and every unit of instruction! Books are replaced each year for the life of your adoption.
DIGITAL PLATFORM
Interactive eBooks for every text include read-aloud audio and are assignable to students.
Interactive ePocket Chart supports instruction across multiple domains, including emergent literacy and math.
ePlanner provides ways to plan instruction, including adding your own lessons and tracking coverage of the PreK Guidelines.
Songs and music videos connect to social-emotional learning, unit topics, letter/sound formation, articulation, and more!
See More