Christine Taylor-Butler
Christine Taylor-Butler is the author of more than 80 books and short stories for children, including The Get-Together from Reycraft Books. A graduate of MIT, she holds degrees in Civil Engineering and Art and Design. The mother of two, she lives in Kansas City with her husband, Ken, a tank of fish, and a cat who thinks she is both servant and head of the pride.
Patty McGee, M.Ed.
Patty McGee is an educator, author, and consultant. She has worked near and far—in her own hometown of Harrington Park and across the world in Abu Dhabi and many places in between. Patty's passion and vision is to create learning environments where teachers and students discover their true potential and power through joyful inquiry, study, and collaboration. Her favorite moments are when groups of teachers are working with students together in the classroom. It is truly where the magic happens. Her latest book is Writer's Workshop Made Simple: 7 Essentials for Every Classroom and Every Writer. Patty is also a contributing author to Benchmark Writer's Workshop and the program author of Benchmark Grammar Study Mico-Workshop.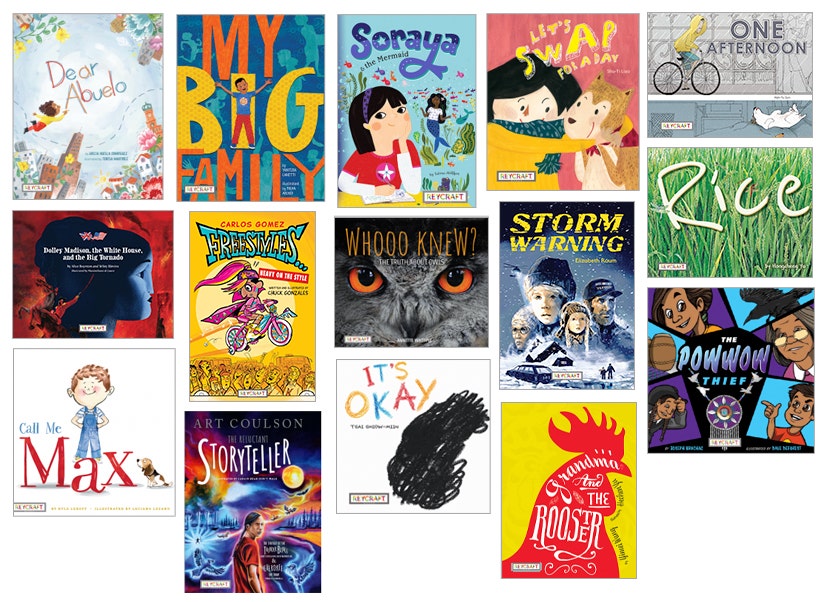 You might also like
Reycraft Books Culturally Relevant Trade Book Libraries
Reflecting the Voice and Vision of All Children
Connect children to the world around them through books that inform, inspire, and reflect their experiences.
Authentic stories by authors and illustrators from underrepresented communities
Award-winning picture books, early chapter books, middle grade books, and graphic novels that call out to be read again and again
Curated collections that empower educators to affirm the unique identities of their students and build bridges to the world
Teacher support for every title!
See More
Episode Transcript
Announcer:
This podcast is produced by Benchmark Education.
Kevin Carlson:
This is a challenging time to be an educator or a student. There is stress for nearly everybody in the classroom. You know what can really help? Books. In this episode, the importance of joyful stories. I'm Kevin Carlson, and this is Teachers Talk Shop.
Christina Taylor-Butler:
I have three requirements for my kids: happy, healthy, fulfilled. That's it.
Kevin Carlson:
That is Christine Taylor-Butler. She is the author of more than 80 books and stories for young people. She also holds two M.I.T. degrees—one in civil engineering and one in art and design. Her most recent book is The Get-Together, which is published by Reycraft Books. Author and educator Patty McGee spoke with Christine recently about the importance of joyful stories.
Patty McGee:
Let's just first start by talking about what you mean by joyful stories.
Christina Taylor-Butler:
The quick answer, because, you know, obviously I'm black, is not oppression stories, non-angst stories. I mean, you know, there's angst that's love and that's okay. But I think, you know, you know, I was at World Fantasy this past weekend in Montreal, and I was talking about, you know, outside there's so much going on that's stressful, you know. And we don't know what's going on in the homes of these children. But even if you're in a functional situation, it's still stressful growing up. And you don't always want to be flooded with books that are, I call them, books that social studies lessons. And I thought the same thing. You know, I'm a big science fiction and fantasy person, so every now and then I just want to be in another world and I want to laugh and I want to smile. And, you know, psychologists and psychiatrists will tell you laughing brings up endorphins and smiling takes, you know, so much, you know, to lift your mood. So I'm a big proponent for we've tried that other thing, post-pandemic let's try something different. And I put that on Twitter once and it got almost half a million responses in the first week.
Patty McGee:
One of the things that we tend to do when thinking about books, especially as educators, is if there's a challenge that we're noticing in the world, we can find books that can help us learn about that challenge, help resolve that challenge, and educate ourselves in some way or other about that challenge. But that can't be the only interaction with books, is what you're saying.
Christina Taylor-Butler:
Yes, yes.
Patty McGee:
We need the books that are going to help us be in a different space and world, help us laugh, help us escape. Help us be in other spaces.
Christina Taylor-Butler:
Well, you turn on the news, and it's just all negative. It doesn't matter where you go, it's negative. And I know when there was news about police shootings, and riots, and protests and, you know, we were in the middle of an election, people were coming on to social media, especially teachers and librarians, and saying, 'Help us find books that can address all these issues.' And I got really mad about that because I thought, we as adults are trying to unpack that. Why are we using children as a surrogate to learn about that? So, you know, my husband, who is my zen master, said, you know, "Just wait. Just wait. Don't send that." And finally, you know, I took the tweet, I wrote, and I erased it, and I said, 'Listen, I'm a mom. I'm a former M.I.T. college interviewer, and I'm a children's author. And I am telling you kids who are suffering from trauma don't want to read more books about trauma. So let's have a compromise.' I'm a math nerd. For every book about trauma you present, or civil rights, or the law, or the Constitution, 20 books of joy. 20 books about kids just being kids. And somehow that just started to resonate, and teachers would tweet, 'Thank you for giving me the permission to do something different.'
Patty McGee:
Yes, and just as an educator myself, it feels right. When you say that we need for every one book about something traumatic, we need 20 joyful experiences to really lift us up and give us the space to imagine the world in different ways and to enjoy that. Enjoy the heck out of it.
Christina Taylor-Butler:
It's like saying, "Hey, you know what? You were mugged on the way to the store. Here's three hundred books to read about someone being mugged." It's well-meaning, but you know, no. Here's the other reason. You know, I'm an engineer and my husband's an engineer. We didn't end up with engineers. I don't know how that happened. We ended up with two art kids. And I have a lot of people say, 'How can you let your kids be artists? You know, what kind of jobs are they going to get as artists?' And I said, I have three requirements for my kids because I'm raising them in the city and I'm raising them as girls. And it's all that trauma that comes with it. And I said, I have three requirements: happy, healthy, fulfilled. That's it. So we need to steer kids towards the things that they're passionate about, not the things we want for them, the things that they're passionate about. And then we can have our book discussions about trauma among adults. But you know what? Most adults don't want to do that either. So there you go.
Kevin Carlson:
After the break, getting joyful stories into the hands of students. Stay with us.
Announcer:
At Reycraft Books, we publish trade books that meet the diverse needs of children and educators. The powerful talents of our award-winning authors and illustrators, primarily from underrepresented communities, honor the voice and vision of all children. Our picture books, early chapter books, middle grade books and graphic novels connect children to the world around them – informing, inspiring and reflecting their experiences while calling out to be read again and again. Curated collections and teacher support for every title empower educators to affirm the unique identities of their students and build bridges to the world. Learn more about Reycraft Books Culturally Relevant Trade Book Collections at benchmarkeducation.com.
Patty McGee:
How do we get these joyful books in the hands of students? What are some practical steps that you can offer us?
Christina Taylor-Butler:
Okay. I always say that every kid is a lock. Not every book is a key. And there are some amazing teachers and librarians who run Nerd Camps around the country. And for those people who don't know what Nerd Camps are, they are free. And since the pandemic, they've been online. But there are teachers and librarians and authors and illustrators who come together to talk books, and no one gets paid. No one pays to go. And one of the women who runs Nerd Camp Pennsylvania is so good at being a book whisperer that she will give a kid three books and say, 'If you don't like any of those books, I have three more books.' So you have to kind of key off the interest of that child. Some like fiction, some like nonfiction. But observe what other kids are laughing about. What are the nerdy kids are reading?
Patty McGee:
Absolutely. When you hear laughter, when students have a book in their hands, it's like, go get that title. Write that down and think about all the other students that may want that book or may find joy in that book.
Christina Taylor-Butler:
You know, for my for my youngest daughter, two books broke the spell. One was Judy B. Jones, which everyone complains about because the language is not totally, you know, we want advanced language. I'm like, listen, I laughed as much, reading them to her as a kid. But Artemis Fowl was the one all the kids were grabbing from each other. For my oldest daughter, it was Twilight, you know, and I said, I don't care what it is. I care that they're reading, and librarians were picking up on what they were reading, saying, 'Hey, I just got this new book. And you know, and I knew how much you liked it.' And then you could see kids following my kids back to the library at school when they were turning their book because the other kids want to be the first in line. And then there's some kids who like really dry books or graphic novels. New Kid by Jerry Craft is a fan favorite in this household, and I'm an empty nester now, so it's two adults who are laughing through that series. And so, it's why there's thousands of books. Not every kid will resonate, but it's okay to start with one that you thought was fun. And if that's not the right book for the kid, try another one.
Patty McGee:
Yes, exactly. So, so let me just summarize what you were saying about getting books in the hands of kids. One: We can attend these free virtual Nerd Camps and find the people who are finding the books. We don't always have to be the book finders. We can connect with the people who are finding the books.
Christina Taylor-Butler:
Yeah, there are so many things like that, and I'm going to say something. I'm going to speak out of turn. The children's books that you see that are on the New York Times Bestseller list right away, they have publicists. They have lots and lots of people who are reviewers who are lined up in advance to read those books. The publishers know where to direct sales for books so that they end up on the New York Times Bestseller list. So I'm a proponent for looking for those people who are not often recognized for their expertise. So I just did an essay for Horn Book, and my essay is now online, live, for free. So if you don't have a subscription, you can get it. Where I'm talking about diversity in STEM literature, and I mention some colleagues who are really good at what they do, but they're under-recognized. And so I'm asking for teachers and librarians or whoever is listening to the podcast: Who do you like that's not getting all the publicity? You have no idea how much boosting that bandwidth will do for kids, but also for that author's ability to write more joyful books.
Patty McGee:
That's wonderful advice. Yeah, thank you. So we'll look for the people who don't have the greatest platform, but we can look for them and we can find out what they're reading and recommending for joyful books. We can listen for the laughter of our students when books are in their hands and just get those titles. And it sounded like also when you were talking about your own children, that there was almost like a social networking around books, so that when, and I know that happens with us as grownups, right? So, when they see someone loving a book or they hear someone talking about the book and they want to possibly then read that book, that kind of conversation and social networking around reading can also get those joyful books into students' hands.
Christina Taylor-Butler:
Oh yeah. We are fans of a book called Unwind. It's YA, and it may not be everyone's taste, but every chapter is a different kid. So, you can't read four and say, 'I'm really invested in this kid. I'll get back,' you know, because everything is running behind the scenes as they move through these characters. A high school student told me about it and I thought, 'Oh, she's going to want to discuss it, so I'm traveling, I'll grab the book and I'll read it.' And then the next day, I wasn't working on my publishing deadlines because I was still reading. It's like, I told my husband: you gotta read this book. It's just about a bunch of teens, and I love books for teens act like teens, you know. Where teens don't act like 40-year-old authors in a teen body. And so my kids started reading it. The other thing that I would say is if you have a reluctant reader, audio books! I really push audio books in rural areas and in urban areas where the reading level may not be the same as suburban areas. Because, not only can students absorb bigger books faster, they're hearing language in context, and language that might not be used in the schools or in their communities. Because what happens is, when I was interviewing, I could tell the readers, because by 12th grade, they had a language that was a little bit farther than what their peers were, and it was because they were reading. And here's the other thing. Kids are scared to admit they're reading outside of the curriculum. And I was like, wait, wait. You know, one in five kids who was applying to M.I.T. read for pleasure. And most of those kids who read were getting in because M.I.T. was looking for the people who would pick up a book without it being a required assignment. So that's where the joy comes in—is what we're trying to do is we're trying to get lifelong, voluntary, independent readers who will go out and get information and then tell everybody, this is what I read or this is what I learned, or is just that nerd who's not telling anyone, but they're introverted and they're in that book. So, I'll calm down. But this is just it's like my platform because I don't think. There's so many rules out there for how to teach kids, I don't think we often are allowed to get the bigger picture. So I'll be quiet.
Patty McGee:
Well, we've heard your message loud and clear: that joyful books are absolutely essential for people of all ages and most especially our students and for every one book about something traumatic, 20 books about something joyful. And this will certainly become part of my message in the different places that I go. I will be quoting you for sure. And I'm so glad that others are able to hear this as well.
Kevin Carlson:
After the break, the story behind The Get-Together. Stay with us.
Announcer:
Introducing The Get-Together by Christine Taylor-Butler. It's a celebration of family and authentic joy. Spend the day filled with fun and games, favorite foods, a little arguing and lots of dancing. Meet the family you'll want to visit again and again in The Get-Together by Christine Taylor-Butler, from Recraft Books. Visit www.reycraftbooks.com.
Christina Taylor-Butler:
You know the story about Reycraft and how Reycraft picked up The Get-Together, which was originally called The Reunion.
Patty McGee:
Just happen to have it.
Christina Taylor-Butler:
I wanted to write a joyful book that was not about race-based angst. I just, you know, sometimes have the conflict in your life is just being family. So I'm sending this book to different publishers. And, you know, I've published a lot of books, so it's not like I was new at this. And I'd have people say, 'We don't get the conflict.' And I go 'They're family.' And they said, 'But we but, but, but why?' And I said, 'Have you ever gone to your own family reunion to come together in love and spirit and enjoyment and fellowship? And then there's competition over who makes a better cornbread or, you know, who's cheating in Scrabble, or who's you know or who's rooting for the wrong football team? And then it's chaos.' But at the end, it all comes back together because you're family. Reycraft was the only publisher that understood it without my having to explain it, and the editors were all going, 'This is my family.' And I said, 'See, they don't even have to be African-American.' This is just about family love with a little dysfunction. A lot of laughing and a bunch of dancing.
Patty McGee:
Yes. And it is a beautiful book. And yes, it reminded me of my family. Well, thank you for chatting with me today, Christine. It's been a pure pleasure.
Christina Taylor-Butler:
I appreciate it. Thank you for inviting me.
Kevin Carlson:
Thank you, Christine Taylor-Butler. Thank you, Patty McGee, and thank you for listening to Teachers Talk Shop. You can learn more about Christine Taylor-Butler at christinetaylorbutler.com. Her new book is 'The Get-Together,' published by Reycraft Books. You can learn more about it and order a copy at reycraftbooks.com. Enjoy. For Benchmark Education, I'm Kevin Carlson.