Jen Hayhurst
Jill DeRosa
Jenn Hayhurst is a creator and co-moderator of the influential weekly Twitter chat #G2Great with Mary Howard. She is a literacy coach with a focus on Grades K-3 and has worked as an Adjunct Professor for graduate students completing their practicum at Long Island University, Riverhead.
Jill DeRosa is a second grade teacher and a district lead teacher charged with providing professional development for her colleagues. She is also an Adjunct Professor at Long Island University, where she teaches preservice teachers. Jill has taught in both private and public school, with a focus on Grades K-3.
Patty McGee, M.Ed.
Patty McGee is an educator, author, and consultant. She has worked near and far—in her own hometown of Harrington Park and across the world in Abu Dhabi and many places in between. Patty's passion and vision is to create learning environments where teachers and students discover their true potential and power through joyful inquiry, study, and collaboration. Her favorite moments are when groups of teachers are working with students together in the classroom. It is truly where the magic happens. Her latest book is Writer's Workshop Made Simple: 7 Essentials for Every Classroom and Every Writer. Patty is also a contributing author to Benchmark Writer's Workshop and the program author of Benchmark Grammar Study Mico-Workshop.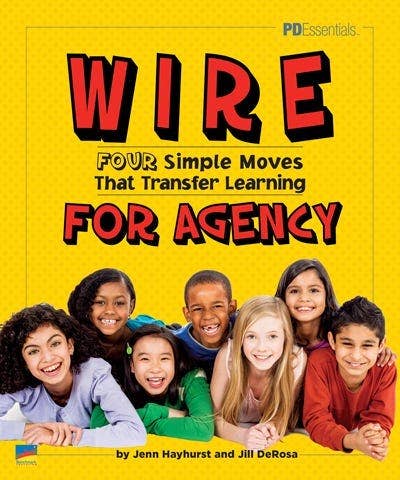 You might also like
WIRE for Agency: Four Simple Moves That Transfer Learning Professional Development Book
Jenn Hayhurst and Jill DeRosa
When teachers cultivate children's agency, students achieve. It's that simple. In W I R E for Agency, two dynamic educators name four simple moves that lead to self-efficacy in students and to responsive teaching. Teachers learn to:
Use a framework of Watch, Intend, Reflect, and Engage as a daily tool in Workshop or any literacy program
Address all aspects of agency with concrete actions, including cultural responsiveness, self-regulation, engagement, and growth mindset
Envision curricula and environments for student-centered learning
Design collaborative learning experiences that give students practice with goal setting, taking action, and reflecting on progress
Purchase your copy
Episode Transcript
Announcer:
This podcast is produced by Benchmark Education.
Kevin Carlson:
Agency is defined as the capacity of individuals to act independently and to make their own free choices. So what does that look like in a classroom? I'm Kevin Carlson. And this is Teachers Talk Shop.
Jenn Hayhurst:
Agency is inherent to learning, and it comes from within the students and from within ourselves.
Kevin Carlson:
That is Jenn Hayhurst, one of the authors of WIRE for Agency: Four Simple Moves to Transfer Learning. Here's her co-author, Jill DeRosa.
Jill DeRosa:
Don't feel like you have to do it all at once. Let agency grow within your classroom because it's naturally there.
Kevin Carlson:
In their book, WIRE for Agency WIRE is an acronym. The W is Watch your students. The I is Intentionally instruct. The R is Reflect to refine focus, and the E is Engage students for long term learning. Engagement is closely related to agency, and engagement is where author and educator Patty McGee started her conversation with Jenn Hayhurst and Jill DeRosa.
Patty McGee:
Let's just talk about engagement and agency. We know they're not the same, but they're closely related and important to each other. So before we get to like what we can do with them, let's just first start with a definition. Like how do you define engagement? And how do you define agency?
Jill DeRosa:
Well, hi, Patty, it's Jill. I'm going to start with engagement. So engagement is great. We know as teachers we want everyone to be engaged. And by engagement, we mean everybody's actively learning. They're on task. They're focused. They know what their job is. And they're doing it. Engagement can come from a teacher, right? We can set up engagement for our students, but it can also come from the students themselves from within.
Now, we believe there's four types of engagement. The first one is behavioral. So those are the kids that are doing school. They're following the rules. And sometimes, you know, it could be through compliance, that they want to be compliant and do what they're supposed to. Emotional engagement is our second time. And that's when the kids have an emotional investment in the learning, whether they're interested in something, they're curious about something. They just want to, you know, really connect to it. Thirdly is intellectual engagement. And that is that really deep conceptual learning. They want to ask questions. They want to know everything they can about the topic. And then the fourth one is what we're really going to build into is that agentic type of engagement. And Jen's is going to speak a little about that.
Jenn Hayhurst:
Right. So agency is like a belief system that your actions can and will make a difference. They'll make an impact. So students who exhibit agency in the classroom are the ones that appear to be self-motivated to learn. They take a very active role in their learning. They thrive on choice, and they have expressed a lot of intellectual freedom. Another way to think about agency is students, they keep learning and keep trying, even when learning gets a little rough, because they have the conviction that they can do it and that their work really matters.
Patty McGee:
So we're really looking for agency. We love engagement, but the ultimate goal is agency.
Jill DeRosa:
Yes, definitely.
Kevin Carlson:
After the break. Tips to build engagement and agency in your classroom. Stay with us.
Announcer:
"Important learning happens as children find their own answers and resources." In their book. Why are four agency educators Jen Hayhurst and Jill DeRosa present four moves that educators can make to support student agency. Those four moves comprise WIRE, which stands for watch your students to understand them Intentionally instruct and learn about your students, Reflect to refine focus and Engage your students for long-term learning.
Jill DeRosa:
The stories from the classrooms really help teachers to identify it in their own classroom and to see those small little tweaks that they can make.
Jenn Hayhurst:
Even though agency is a very big concept, it's really not a difficult one to put into your practice.
Announcer:
Find out more about this and other titles at PD Essentials.com. Go teach brilliantly.
Patty McGee:
Now that we have definitions for both, which are just so crystal clear. So thank you for making that distinction and thanks for making it really easy to understand. And I also just want to call out the word agentic and agency and how they're you know, it's a conjugation of agency for those who may not be using that word. But you'll hear it a lot as we have this conversation. So now that we know what the definition of agency and engagement is. And I am going to make an assumption here on the way that you just define this and tell me if I'm correct, is that engagement is actually a doorway to agency like you when you get into when you're engaged, you can open the door from there and step into agency. So if that's the case, perhaps the first step for teachers is to really build opportunities for engagement as a stepping stone for agency. So would you share with us some tips on first building engagement?
Jill DeRosa:
Oh, sure. So what about first tips when we're building engagement would be to think about access. Right? Like how do we offer opportunities for children to be able to get what they need and to have the time that they need to do deep thinking work? If we want things to transfer, there has to be some deep thinking. So in terms of access, the tip that we have is, first of all, like we have to teach kids what engagement looks like. So we want to model it. We want to teach it. And then we want to give them lots of practice doing it. Right? So in order for them to engage, they really need to know what it looks like. Another tip in terms of access could be, you know, when we set up our classrooms, we want to set them up with lots of opportunities to engage in so many different ways. Have kids talking, writing, thinking, acting out, moving around. We want to let them experience all the different ways that you can engage. And then most important is to give them time to reflect about it. I think like what felt really good? What didn't feel so good? And really think about why. And I think when we do that, we give them access to lots of engagement experiences. It really opens up engagement to be a reality in their classroom and in their learning experiences.
Patty McGee:
It sounds so basic to say let's include kids in figuring out what's engaging, and yet it's kind of not very common. Right? Sometimes it's like I'm the teacher, and I'm really thinking about how I can create an engaging experience for students when the very simple act of reaching out to students and saying, let's co-create this is an easier path than trying to take it all on our own.
Jenn Hayhurst:
Yeah. It's more of a student-centered approach rather than a teacher-centered approach. Right? Another tip to kind of make that move from engagement to agency is to really consider the kind of language that we're using with students, because, you know, language is the vehicle that fosters trust and empathy and risk taking, you know, safety between teachers and students. So you really want to use language that celebrates the process rather than the product. Right? The actual going through the learning process, using language that really supports and celebrates that. And then another thing to think about with language is that whole notion of the growth mindset. Right? Encouraging students to persist and to celebrate the risk taking, to really consider how students can believe in themselves using language that will really help facilitate a belief in self. Because, as we said, agency comes from an internal belief system that your actions matter. And then finally, just kind of talk to children through an asset lens. You know, look for what's going well. You know, us as teachers, we tend to always turn that that gaze on what they're not doing instead of what they are doing. And if we want more success, we have to really underscore that, like what is going really well and then helping them to grow into themselves. The next step, that's going to be hard for them. If they're secure and they're confident and confident, they're they're going to be more likely to learn with a sense of agency. And language can do all of that.
Patty McGee:
Wow. So access as one tip for engagement. Language as another tip for engagement. Is there a third?
Jill DeRosa:
Yeah. So the last one that we wanted to talk about is choice. And we hear about choice so often. But choice is key to engagement, because when we give children choice, they get to take on some power. And they get to share control with their teachers. And sometimes choice can feel like really overwhelming for teachers. So we say, you know, start slow. You know, maybe give them a choice on what supplies they use, maybe where they sit in the classroom, and then you could build to who they work with, what type of product they're going to give for their learning, like how they're going to show what they've learned. And then even like letting them start to choose the different types of content that they can study. Right. So choice seems like a scary thing, but when you start small and grow it, you'll feel much better about it.
Patty McGee:
Absolutely, yeah, choice can be very limited in a good way. Right, because sometimes kids feel overwhelmed by choice and they're like, I don't know which way to go. But if we just say here are just a few different things that you could try, which one is going to work for you? That just totally supports engagement and sets up for agency. So let me just recap those three. So to build engagement, as in preparation for agency, consider access, consider language and consider choice. OK, so we've got engagement. And now what are some tips you have for us and then moving into agency?
Jenn Hayhurst:
You know, it had it's so funny. It's like now you set the stage for it, right? You've built in these engaging lessons with this idea that you're going to reach for agency. The first thing that we recommend that you do is to take a pause and watch. Really. You set it up. You've done the work. Now give yourself that time to really observe your students by looking and listening to what they say and how they interact. And then you can make those adjustments to enhance their learning, to make them more successful or to figure out what you need to do to get them to that next thing, whatever it is.
Patty McGee:
That is so important to say and to underscore, because I think that there is a misconception for us as educators that we're supposed to be going, going, going, going, going all the time. And we're not saying we're stepping away from teaching at all in this situation, but pausing and watching, observing, gathering information that will help us make really customized, wise next-step choices to build an agency. It allows us to pause and just take stock of what's working, maybe what isn't, what's happening, what we're ready to try. All of that, that kind of pause and watch. It's just so valuable. Other ideas, other tips.
Jill DeRosa:
Another tip would be be intentional. And throughout our book, we talk about something called shared intentions. And shared intentions is really merging together teacher intentions and student intentions. So as teachers, we know we come to the classroom when we're given curriculum and standards to follow, and they're really important. We're not diminishing their importance. These are the things that we know help make children successful. Right? But we also have to realize that our students come to our classroom with their own intentions. And if we're going to honor their identity and who they are, we have to make room for those intentions within our teaching. So a shared intention is really taking the two and putting them together. Right? Starting with curriculum and then thinking to yourself, how can I make this curriculum or these standards meet the interest, the needs of my students? And also how do I give my students an authentic, true voice in their learning, not like a pretend voice where we, you know, try to sound like we're including them, but a real voice that they know that we've heard them and that they are truly part of our plan and our goals throughout the school year.
Jenn Hayhurst:
Yeah, absolutely, it's not an afterthought. It's something that you're working and aspiring to do to include their voices and then once you've included their voices, a final tip really would be to build in time for yourself and for your students to reflect and refine the focus. Right. So, you know, make it a habit of mind to ask open ended questions at the end of your teaching or throughout your teaching that encourage reflection, like as an active metacognitive piece to the learning day. And we can do this really with students because we want to encourage them to really think deeply about their own learning and also to make room for ourselves to do that, because it is a balancing act between our intentions and their intentions and then how to merge the two. And reflection is the way to do it.
Jill DeRosa:
You know, I find sometimes just I use three simple questions throughout my day, whether I'm teaching math or reading or writing. Like I start with what felt really good? Like what did you feel successful about? And then we turn to like what was a challenge? Like, what do you want, like help with? Then we can throw it out there that maybe other students will give you tips or we can work together to figure out what you might change or what might help you. And then finally, you know, we use that, you know, what's our next move? Like what will we change tomorrow? Or what will we build on tomorrow? And it's three simple questions, but I find that they're my go-to questions. And the kids get used to them. And again, trying to make reflection a habit. They know what to expect, and they get better and better at it.
Jenn Hayhurst:
And then they get better at giving each other feedback as well and also articulating what they need as learners.
Patty McGee:
Yes. And with predictable questions like that, knowing they're coming, they're in a state of constant reflection then, too. Right. So as they're working and you're watching or as they're whatever they're doing to continue to learn whatever they're engaged in, and you're watching and you have these shared intentions grounded, not in the same kinds of questions. I mean, they don't have to be the same questions every time, but the kids know the pattern. So there's like an act of reflection going on all the time. Oh, I know this this question's about to come or I know this question is coming. So I can already hold on to something that I can share when we do talk about those questions. So there's that really supportive, very simple, again, way of building agency. So I just want to recap. So when we are moving from engagement to agency, the three tips that you just shared with us was one to first step back and watch, gather as much information as you can about what students are doing, almost doing and not yet doing. So you can make really carefully thought-out decisions, instructional. And then so not just have teacher intentions to have shared intentions. So students and the teacher or teachers together have this collaboration around those intentions and therefore that type of investment in them. And then finally build in time for reflection that can be short, can be a little bit longer. But we know that reflection can really make a huge difference in what we hold on to and what our next steps are.
Kevin Carlson:
After the break, some final thoughts from Jen Hayhurst and Jill DeRosa. Stay with us.
Announcer:
Do your students approach grammar with a sense of curiosity? Is it a tool they can use to strengthen their voice or for them, is it just a bunch of rules they need to memorize?
Patty McGee:
Hi, I'm Patty McGee from Benchmark Education. And I am so honored to introduce you to grammar instruction that is designed to work. Grammar study. Micro workshop. Grammar study, micro workshop is structured around 15 minute lessons that you can fit into your busy schedule. Each lesson provides a combination of inquiry, explicit instruction, and reflection. Available for kindergarten through fifth grade. The Grammar Study Micro Workshop gives you the resources that you need to ensure your grammar instruction is time-efficient and works for your students. Find out more about this and other Benchmark products at Benchmark Education.com.
Patty McGee:
Really, really helpful conversation. Jill and Jen, thank you. Before we end, what other things do you just want to share that maybe you haven't said? Anything that comes to mind right now as just some final parting words for those who are listening or watching?
Jill DeRosa:
I think what we want to really stress is that agency can happen for everyone, right? Like we believe in students' and teachers' ability to work with the sense of agency, and we don't want it to feel overwhelming. Right? It may seem like we shared a lot of things that you can do, but really what we want you to do is start with a few small tweaks to your practice that's already happening in your classroom. Think about what are those a couple of things that you could change, where students get to take a little more control and they could work with, you know, a sense of agency that their work matters and they can see that their work can have an impact. So don't feel like you have to do it all at once. Let agency grow within your classroom because it's naturally there.
Patty McGee:
Yes.
Jenn Hayhurst:
So Jill and I are very grateful for this opportunity to talk to you all about agency. But something that's really important to us is that we send the message that agency is a right for all students and should not be relegated for some students as opposed to others. Agency is inherent to learning, and it comes from within the students and from within ourselves. And it's something that we all need to really embrace as educators and as learners.
Kevin Carlson:
Thank you, Jenn Hayhurst and Jill DeRosa. Thank you. Patty McGee. And thank you for listening to Teachers Talk Shop. If you want to hear more from Jen and Jill, check out their blog post: "Extending Engagement: An invitation for Agency." To find it, go to Benchmark Education.com, visit the Professional Learning area, and look under Professional Development Resources. There you will find the Benchmark Blog. The post is full of great information, useful tips, and links to other resources, including an On-Demand webinar that Jenn and Jill recently delivered. Enjoy! For Benchmark Education, I'm Kevin Carlson.